Justice For Ahmaud - It Could Have Been Me –
Speaks to the dichotomy between public activism and the private struggle African American citizens experienced in response to the vigilante style murder of Ahmaud Arbery. As with other racially motivated murders, a deep sense of solidarity and intense anxiety ensued. This exhibition documents the powerful faith based political movement initiated by the Arbery Family that brought about a conviction and its effect on their close-knit Brunswick Georgia, Gullah Geechee community.
The exhibit host, The Dock Bookshop, is one of the premiere African American bookstores in the Southwest. Curator Vicki Meek arranged the images to compliment this intimate space and encourage dialog. The images survey a broad range of time from September 2020 to August 2022, culminating with the federal hate crime sentencing. More important than the photographs themselves is the viewer's perspective. We all have a story to share. This is our story. My goal is to empower the audience with a sense of Sankofa, learn from the past to make progress. This exhibit is part of the Fotofest Biennial Participating Spaces program.
Meet The Photographer: Beatrice McBride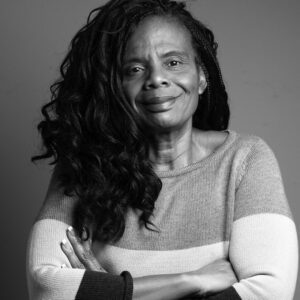 Beatrice McBride is a freelance photojournalist based in Dallas Texas. Passionate about capturing world events and cultures, her portfolio includes images from throughout the United States, Africa, Asia, Europe and South America. Beatrice's works have been exhibited at The Museu Afro Brasil, São Paulo Brazil, The African American Museum (Dallas Texas) and the Dallas Museum of Art among others.
The deeply disturbing racialized murders of African Americans prompted Beatrice to take an intimate look at the communities most effected. She documented the Minneapolis Minnesota neighborhood at 8th & Chicago during the tumultuous weeks between the fatal police killing of Daunte Wright and the first anniversary of George Floyd's death. She has been cronicaling the Brunswick Georgia community and Gullah/Geechee culture over the past 2 years in an effort to understand the context of the vigilante style murder of Ahmaud Arbery.
Beatrice studied photography at The University of Texas. She credits the influence of her mentors Magnum photojournalist Eli Reed and Civil Rights photographer R.C. Hickman for informing her approach and style. Always looking for innovative ways to improve her skills, Beatrice interned at DCTV in Washington D.C. where she co-produced Coming Full Circle , an engaging short film chronicling the transition of one of The Lost Boys of Sudan refugees into a successful public servant.
Beatrice is the owner of BeMedia One. She is the current Director of Photography for The Denton Black Film Festival. Her clients include The Transformative Justice Coalition, T.D. Jakes Ministries and Unity Unlimited. Professional memberships include The Exposure Group -Washington D.C. and The American Society of Media Photographers. Beatrice's images have been published widely and viewed on CNN, ABC Good Morning America, and Fox4 News.
The deeply disturbing racialized murders of African Americans prompted Beatrice to take an intimate look at the communities most effected.