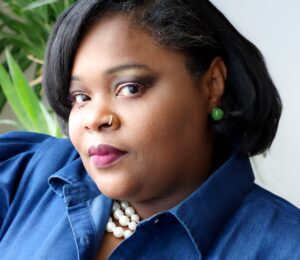 INTRODUCING 2023 FEATURE COMEDIAN- ANGELIA WALKER
McKinney's own Angelia Walker lights up the comedy stages throughout the Metroplex and will headline the Denton Black Film Festival's Laugh Out Loud Comedy Night at Patterson-Appleton Arts  Center, Friday, January 27th at 8 p.m.  Also on the lineup, comedians Derrick Cakley, Mary Boyce, Payton Payne, and host, Katina Butler.
Angelia Walker has opened up for top comedians such as Kat Williams, John Levitt, Charlie Murphy, Robert Powell as well as many local rising Dallas comedians. She has gone on to host and headline at prestigious comedy clubs such as the Improv and Hyenas. Aside from the shows she has done in the Dallas Metroplex, she has also performed in Oklahoma, Louisiana, New Mexico, California, Arkansas and the Bahamas! Angelia currently hosts her own comedy room every Wednesday at Mickey Sports Bar and Grill. 
A McKinney native, Angelia started her comedy career in 2005. Angelia had always liked comedy, however, her original passion was for poetry. She had been asked by legendary comedienne Mama Michelle to come to a showcase and perform. Angelia thought she would be reciting some of her poetry however little did she know the showcase was actually a comedy contest.
 Angelia performed her first ever comedy bit and won first place. This was the beginning of her comedy career! Angelia continued to build and hone in on her craft by frequenting Nanette Lee's Fat Tuesday Comedy shows.
Check her out on social media @comedienneangeliawalker
 LAUGH OUT LOUD 2023 LINEUP: