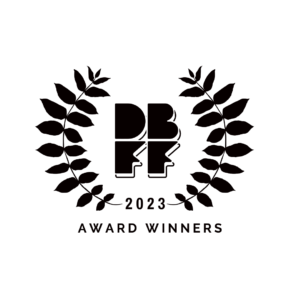 BEST NARRATIVE FEATURE
WINNER
Butterscotch Chocolate
Director DuJuan Paxton
–
Roni is a beautiful and classy hot shot lawyer who seems to have it all together. However, her constant battle with a mental illness and sexual addiction causes her career and life to be altered in a way she never imagined.
JUDGES COMMENTS: "Bravo for tackling topics traditionally taboo in the black community. Beautiful reveal at the end" "The movie had a great plot twist. It was nicely dealt with mental illness without being so stereotypical"
–
RUNNER UP
The Long Way Up
Director Delante Sealey
JUDGES COMMENTS ON 'THE LONG WAY UP' : "Great story idea! Nice performances by the main characters. Great tension-building" "I loved the Cinematography and the perspective from Astronaut adjusting to live back on earth. It's a view we haven't always seen especially via Black lens."
BEST DOCUMENTARY FEATURE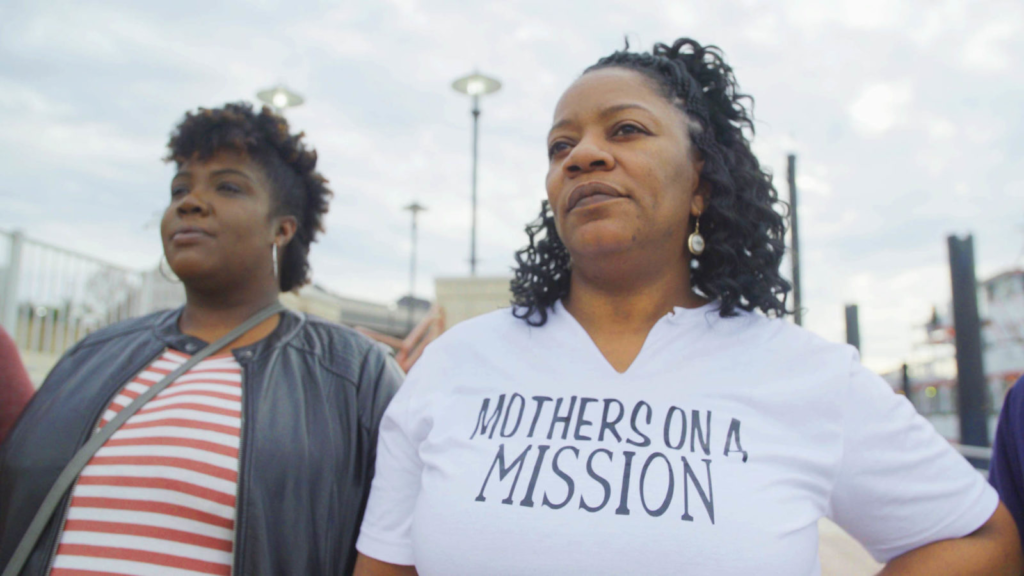 WINNER
BLACK MOTHERS LOVE & RESIST (In Person Screening Only)
Director De'bora Souza Silva
–
Wanda Johnson and Angela Williams, mothers of young Black men victimized by police brutality, come together and build a network of community-led support, mutual aid, and healing in this documentary spanning Oakland's Fruitvale to the American South. Long before George Floyd's murder and the BLM protests in 2020, Oscar Grant's 2009 fateful encounter with law enforcement on a BART platform seeded public awareness and cultural consciousness of systemic racism and its discontents. Paying forward lessons learned and advocating against anti-Black violence in memory of her son, Oscar, Wanda Johnson holds space for Angela Williams, whose teen son, Ulysses, survives a police encounter in Troy, Alabama, living to tell his story. Radical empathy fuels this timely expose'.
JUDGES COMMENTS: "I am honored by the chance to know more intimately the stories and lives of the mothers carry on the legacies of their children. To see them with a fuller dimensionality, beyond being a hashtag or national outcry, but a child connected to the hopes and wishes of their mother. I loved the intimacy of this film to its characters and its ability to educate through our personal connection to these mothers."
JUDGES COMMENTS: "Incredible editing, methodical cinematography, pristine audio, intimate access, wonderful scenes, compelling and whole characters, and satisfying setups and payoffs. The message, perspectives and generous participants are given a meaningful and compelling platform through this film because of its craftsmanship and most of all its thoughtful and careful storytelling."
TIE – RUNNER – UP
Blurring the Color Line
Director Crystal Lee Kwok
–
JUDGES COMMENTS ON 'BLURRING THE COLOR LINE': "Well crafted look into Asain/Black race issues focusing on one southern community in Georgia. The voice over was crisp and helped support the difficult discussions that were not always forthcoming from the interviewees. Congratulations to the filmmaker for beautifully exploring what surely must have been a very emotional and difficult filmmaking journey for her."
"I appreciate Crystal Kwok's intimate reflection of her families lives in Augusta, and how the Chinese -American experience existed in the racial strata. Chronicling through the history of her family as well as Crystal's personal reflections of how she has come to a deeper understanding of racial inequity was the heart of this film. It was a well-paced film with great supporting elements like the animations and archival."
TIE – RUNNER – UP
This is My Black
Director Stephen Adetumbi, Jarrett Roseborough
–
JUDGES COMMENTS ON 'THIS IS MY BLACK': "Wonderfully composed music and choreography. The teachers of Pine Forge Academy should be proud that they have produced students with such incredible talent. My personal favorite music number was the acapella piece: at once breathtakingly written and expertly performed."
"Geeeeeeez! Yes, this was powerful. Incredible production, music, testimony."
"It was refreshing to see a musical led by talented, Black young artists who use their craft to unify around the issues that are impacting their generation and community. Having no prior knowledge about Pine Forge Academy, I was excited by the energy of these students to showcase their school and the productions' ability to highlight the beautiful natural and historical spaces."
BEST NARRATIVE SHORTS
WINNER
Don't You Go Nowhere
Director Bryan Poyser
–
A jazz dynamo belts his way through his weekly set until he makes an unexpected connection with an audience member in this short film about the power of music over memory.
JUDGES COMMENTS:" I knew something was up when the girl came on stage and started singing a verse! Great writing! Very creative storytelling! Crisp picture!"   

"…this films musicality and story kept it at the top of my list. I enjoyed how the story unfolded and the acting."
RUNNER UP
Shoebox
Director David Fortune
–
JUDGES COMMENTS: "Beautiful story! Beautifully shot! Very touching!" "I really enjoyed this film and seeing the character open himself up as he processed his grief and worked through it by working in the barbershop."
HONORABLE MENTION
Jac on the Come Up (In Person Screening Only)
Director Gene Graham
–
JUDGES COMMENTS: "Interesting camera shots. Rich, vibrant colors" "The story made me think about things that I normally don't, and a lot of people think about the person who is going through the health issues and not often the person who is caring for them. It's often a two way street and you could feel the guilt the character has when she felt like she maybe could have done more."
BEST DOCUMENTARY SHORTS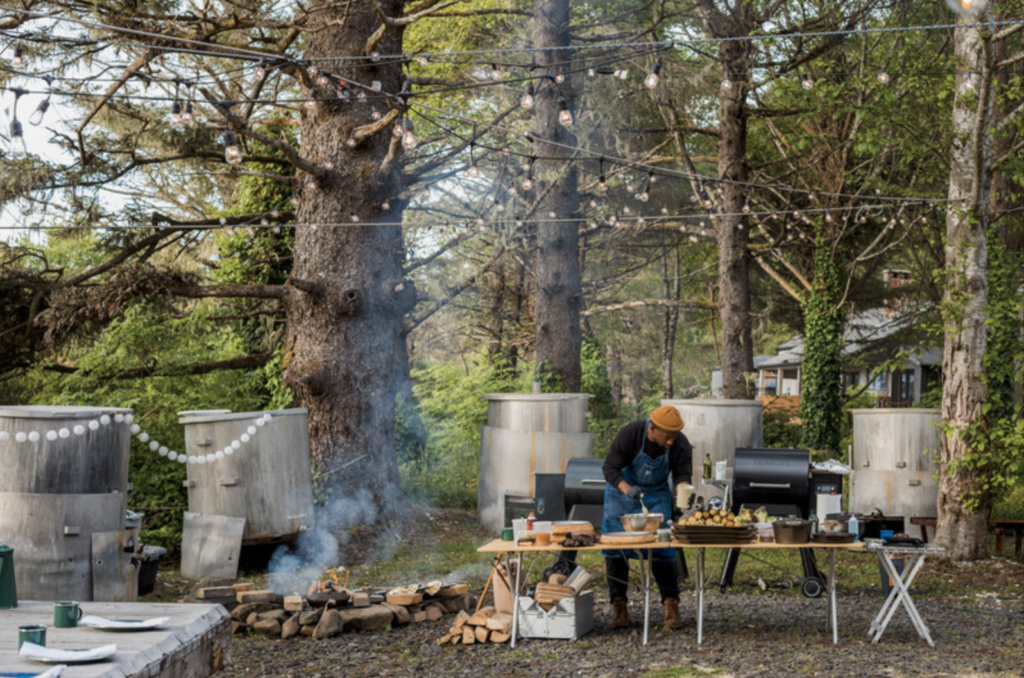 WINNER
Camp Yoishi
Director Faith E Briggs
–
After moving to Oregon and falling in love with the ability to explore the outdoors with ease with his wife and two kids, Rashad Frazier knew he had to extend the invitation to others. Driven by the magic of his experiences, his background as a chef, and his love of good food and connecting people to incredible places that open up to conversation, he created Camp Yoshi, which curates custom outdoor adventures centered around shared meals and shared experience with the goal of creating a space for Black people and allies to unplug and in turn reconnect with the wilderness. By virtue of being in these places, Camp Yoshi's trips transform historically segregated spaces into safe havens for community, conversation and nourishment.
JUDGES COMMENTS:" WELL-CRAFTED AND INTERESTING LOOK AT A DIFFERENT SIDE OF THE BLACK EXPERIENCE "Excellently produced. Great imagery, great audio. Interesting participants, perspectives"   
"Beautiful film about returning Black folks back to nature. I love this movement of reconnecting back to the Earth, getting us to our ancestral knowledge of land, sea, and soil. Like Rashad mentioned, "its a homecoming", and I'm on board. Wonderful cinematography, I loved the editing (especially the quick "gumbo" cuts at the end), and really poignant, dynamic conversations in a short amount of time that summed the story well."
RUNNER UP
Prolyfyck
Director Faith Briggs, Tim Kemple
–
JUDGES COMMENTS ON 'PROFLYFYCK': "Beautifully shot and edited. Being set in Charlottesville made the film resonate strongly with recent events."
"Beautiful film, great pacing, captivating visuals. It's always a great film when I finish watching it wishing I had helped make it."   "Great story and awesome to see the uplift this black-led organization is brining to the community with such a stain on it after the riots in 2017. I love the theme of challenge and perseverance is tied throughout every character and scene and the other elements from the music, to the editing, just support it nicely. Makes me want to actually visit Charlotte and start running."
BEST EPISODIC/WEB SERIES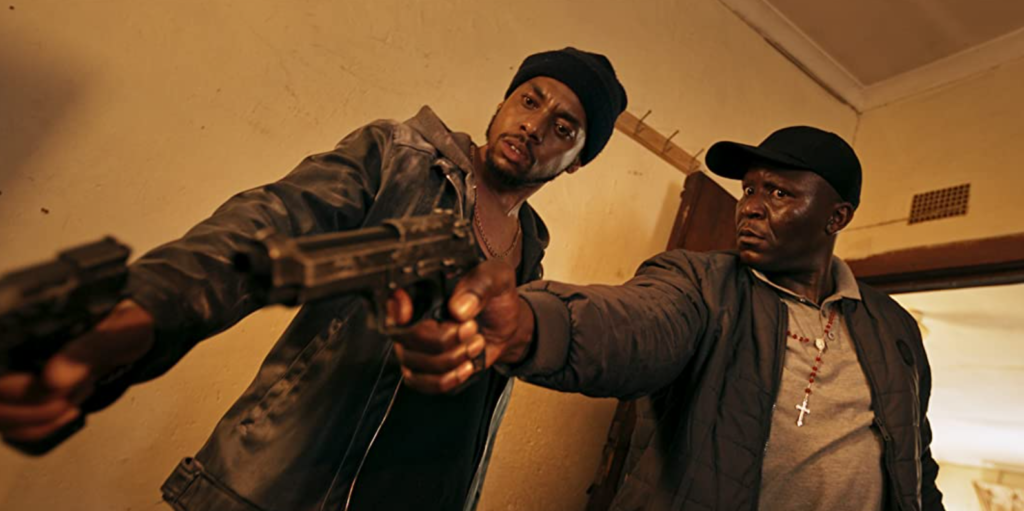 WINNER
FOUR WALLS – EPISODE 1
Director Kgosana Monchusi, Menzi Mzimela, Juvais' Dunn
–
Grace Molotsi, a married nurse from the township, feels trapped and at her wits end due to an abusive husband who has made her life a living nightmare. When she finally takes the decision to end his life, her house is invaded by two thugs on the run from a cash-in-transit robbery gone wrong who take her hostage. Will the thugs be able to trust Grace when they discover her tied up unconscious husband in the bedroom? How will Grace be able to explain the various revelations that arise once her husband regains consciousness? Four Walls provides insight on the systematic societal issue of Gender Based Violence (GBV) posing the question, just how far do victims have to go to be heard and protected?
JUDGES COMMENTS: "Incredible cinematography! Great acting!"   "This film made the character Grace seem like a kick butt kind of lady. It was definitely that type of episode that left you ready for the next" "Like the plot, the suspense captured your attention to the very end"
RUNNER UP
Regular Negroes – Overnight Dishes
Director Reggie Williams
–
JUDGES COMMENTS: "This film made me surprisingly laugh a lot more than expected. It was a group of roommates arguing over some dishes left in the sink and taking their fight to the next level."  it was lit really well. Strong audio mix" "Very entertaining. I loved how a serious topic which can create lingering anger and divisiveness in a household is told through a comedic lens. I wonder what happens next."   "Fast-paced, amusing and relatable episode. Co-existing under one roof is a universal theme. I would watch this series"
BEST COLLEGE SHORTS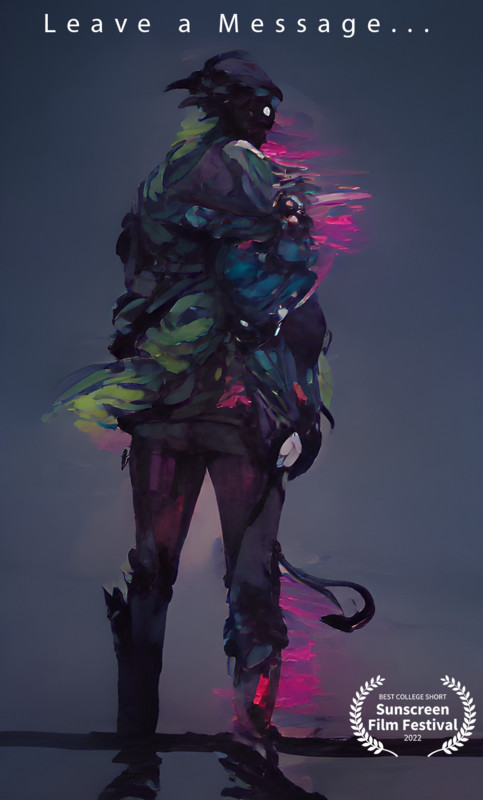 WINNER
Leave A Message…
Director Justin Carmichael Hollis
–
A young man isolates himself from his friends and family after the death of his close friend as told through a series of voicemails.
JUDGES COMMENTS: "Gripping storytelling and beautiful shots! Putting audio through a filter to make them sound like actual phone calls, and possibly holding onto that final shot after the jump for just a beat instead of a straight cut would have enhanced this just a touch more. If you're already telling stories like this as a student, I'm looking forward to where you go from here!"
RUNNER-UP
Rules Are Rules
Director Claude J Hills III
–
JUDGES COMMENTS: "Couple of very interesting shot choices Soft focus throughout"
"Wow – I am almost lost for words. This film was excellent. It was full of so much emotion. I was sitting on the edge of my seat as the plot continued to unfold"
BEST ORIGINAL MUSIC VIDEOS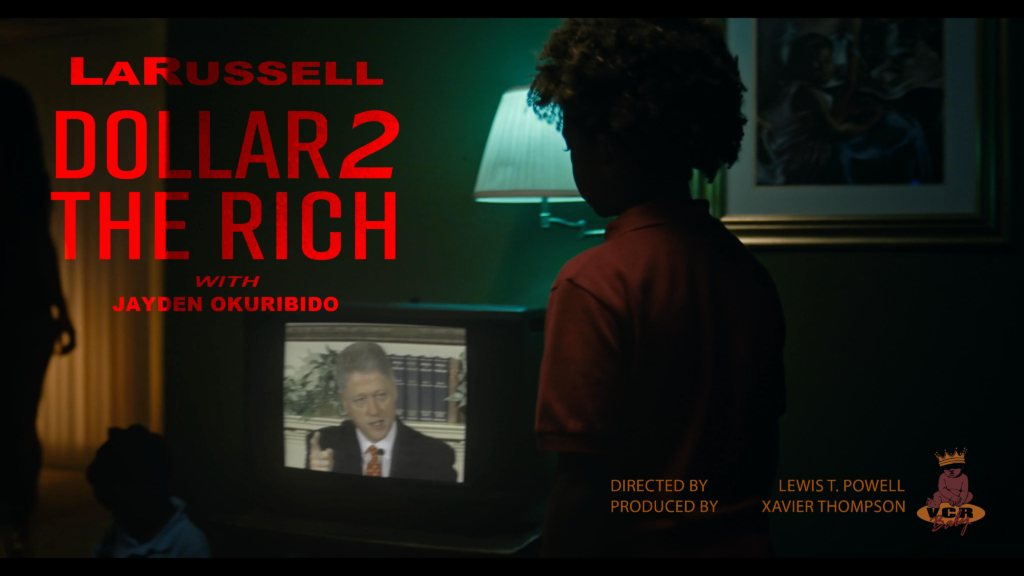 WINNER
Dollar 2 The Rich
Director Lewis T Powell
–
"DOLLAR 2 THE RICH" is an ode to mental health. The narrative music video is primarily a "one-take" music video that starts with a young LaRussell seeing his adult family and friends engaging in activities that plague our community. The video addresses some generational curses that black people or people in poverty face and tackles the stigma of asking for professional help.
JUDGES COMMENTS: "This was powerful. The flow of images symbolic of memories – a life flashing before one's eyes. The house and doors, seemingly in one building, metaphorical for the child's mind and the impact of childhood trauma. Loved the rhythmic flow of the images with the lyrical content. The last scene in therapist office was so powerful. Black men deserve to grow old and to get therapy. The final memory of sexual abuse and that boys experience this as well – the hyper-sexualization of the child and its effects on his adulthood and relationships – all great and needed content. This short video speaks to so much and sparks much needed conversations. The vulnerability at the end – "Can you help me."
RUNNERS-UP
SunShine On Yo Face Feat. Anne Harris
Director BIGLLOU Johnson
–
JUDGES COMMENTS: "This was such a sweet, encouraging and lighthearted video. It speaks to the COVID era, offering encouragement, hope, and joy. Loved seeing all the different faces. The music was down home, the strings were impeccable. Loved the bluesy baritone. Lots of light, sunshine, beautiful skies. It was a simple video but was so well executed and had a powerful message."
BEST SCREENDANCE FILM
WINNER
Sheila
Director Gabri Christa
–
In this experimental short documentary, a dancer SHEILA ROHAN, blows out a candle and finds herself in a magical world of memory , dance and presence. Featuring Sheila Rohan, one of the founding members of Dance Theater of Harlem.
JUDGES COMMENTS: "The dance exists within and across the frame of the film reflecting how dance lives within and across the body and life of 'Shelia'. Dance is always in the present, however the stunning cinematography of this work uses the ability film has to extend the choreography beyond the time and space of the present. The dance becomes both in the now and in the past/future of the body of Sheila. Striking lighting and sound draw the viewer into the dance's physical narrative. A beautiful artwork as well as being an important historical film for the art of dance."
RUNNER-UP
Promise Me You'll Sing My Song
Director Jirard, Adam W. McKinney
–
JUDGES COMMENTS: "Beautifully shot, tactile engagement with light and sound to create a visceral documentation of the choreography. Beautiful shape and color as dancer and land around exchange composition."
BEST TEXAS NARRATIVE SHORTS
WINNER
Don't You Go Nowhere
Director Bryan Poyser
–
A jazz dynamo belts his way through his weekly set until he makes an unexpected connection with an audience member in this short film about the power of music over memory.
JUDGES COMMENTS: "Don't You Go Nowhere was something I enjoyed and think that others would enjoy too. The music and pacing of the film was great. The story didn't feel readily predictable, there was some bittersweet moments in the film between the two main characters."
RUNNER UP
Meta Care
Director Jerold B. Couch
 –
JUDGES COMMENTS: "The actor did an incredible job of keeping me engaged in the short. She really nailed the sweet to aggressive mood swing like a pro"
"Great cinematography and story!"
BEST TEXAS DOCUMENTARY SHORTS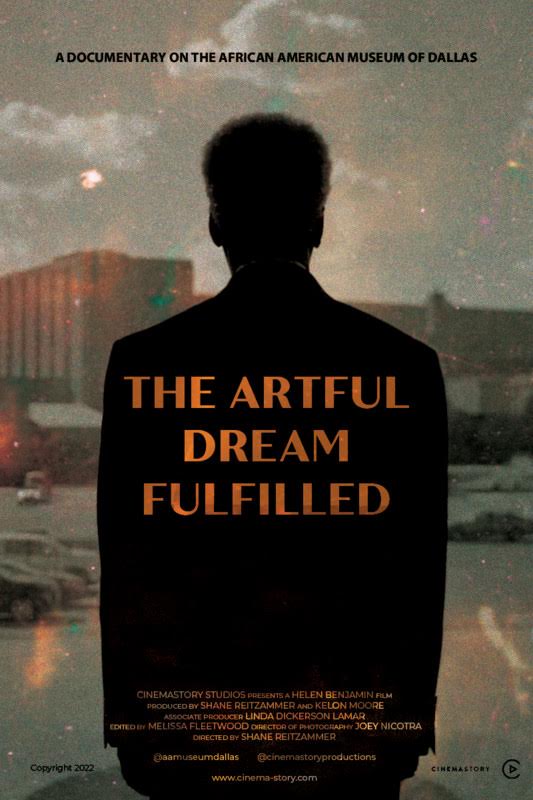 WINNER
The Artful Dream Fulfilled: The African American Museum of Dallas (Only 1 Virtual Screening)
Director Shane Reitzammer
–
This documentary film tells the origin story of Dallas' African American Museum.
"Beautiful imagery and expert editing. The pacing and flow were consistent" 

"I know it was hard to contain the museum's 30 year history in 30 minutes, but it is a beautifully composed and edited film. The film helps bring to life the character of the museum with a vibrant warmth and intimacy. I love the overwhelming adoration given to this special place and it is conveyed well through each frame".
JUDGES COMMENTS: "Wonderful! An emotional and well-crafted story about the significance of museum as well as of African-American struggles in art, commerce, and life in Dallas. Nice mix of pesonal and the political. Particularly enjoyed the stories about the creation of the architectural elements and the museum programs. Loved the history of the fundraising, the struggle, and the beauty of the final product. Great story well told about an iconic Dallas Landmark. "   
RUNNER-UP
150 Years of Resiliency; A Joppa Documentary
Director Curshion Royal Jones, Joslyn Madu
–
JUDGES COMMENTS : "Covers a lot of ground in 30 minutes and gathers a great variety of perspectives. I can feel the importance of this as a historical document." "Having conducted previous historical research on Joppa, it wonderful to see a project about the community, made by the community. Joppa is one of the few extant freedman's towns in Dallas and Texas and it is lovely that there is now a film to document and honor this hidden gem of the city. The interviews in this film were stylized beautifully."
BEST TEXAS COLLEGE SHORTS
WINNER
Revenge of the Relaxer
Director Ashley "Tweety" Mason
–
The black hair industry has wrecked the experience of going to the hairdressers and reaping joy from getting your hair done. This is a feeling exclusive to black women who frequent salon and suites or even houses to get their hair done. There has been an increase in the lack of decorum but an increase in prices and strict policies that avoid the client of full satisfaction. In this exploration of the treatment of black women who are simply trying to get a service, astounding horror stories are told that completely divide service from privilege.
JUDGES COMMENTS: "A new spin on the never-ending story of our affair with our hair. Very entertaining, creative and eye opening. I love the use of fashion dolls to move the narrative along. Thank you Black Jesus I did not come of age in the days of extensions and bagged hair! I enjoyed this one so much I watched it twice. Shout out to UNT! 

"Cute use of the dolls" 
RUNNER-UP
In My Artform
Director Lakeisha Nicole Hayes
–
JUDGES COMMENTS: "This engaging short highlights the thoughts and actions of 2 artists. It does an excellent job in explaining and demonstrating how works of art are composed."  "Interesting peek at the creative process of two young Black women. Lively use of music and color from the into to the credits. I found both ladies very engaging."
Listed 2023 DENTON BLACK FILM FESTIVAL VIRTUAL PEOPLE'S CHOICE AUDIENCE AWARDS
BEST NARRATIVE FEATURE – BEAUTY'S KEEPER, Director Eric Rice
BEST DOCUMENTARY FEATURE – 3 Way Statistical Tie,
Blurring the Color Line, Director Crystal Lee Kwok
Invented Before You Were Born, Director Jonathan Knight
Kumina Queen, Director Nyasha Laing
BEST NARRATIVE SHORT – Dick Control, Director Shequeta L. Smith
BEST DOCUMENTARY SHORT – Black in Hollywood: Carlton Jordan -'Trials of Tokenism', Director Brandon Miree
BEST EPISODIC/WEB SERIES – FOUR WALLS EPISODE 1, Directors Kgosana Monchusi, Menzi Mzimela, and Juvais' Dunn
BEST COLLEGE SHORT-TIE
Restless, Director Emmanuel Wilson
Pandemic Proposal, Director Michael E. Melvin
BEST ORIGINAL MUSIC VIDEO – Spotlight, Director Vivian D. Payton
BEST SCREENDANCE FILM – No Votes Recorded
BEST TEXAS SHORT – 150 Years of Resiliency: A Joppa Documentary, Directors Curshion Royal Jones and Joslyn Madu
BEST TEXAS COLLEGE SHORT – Restless,Director Emmanuel Wilson
BEST TEXAS HIGH SCHOOL SHORT – Life Support, Director Stanley Turner